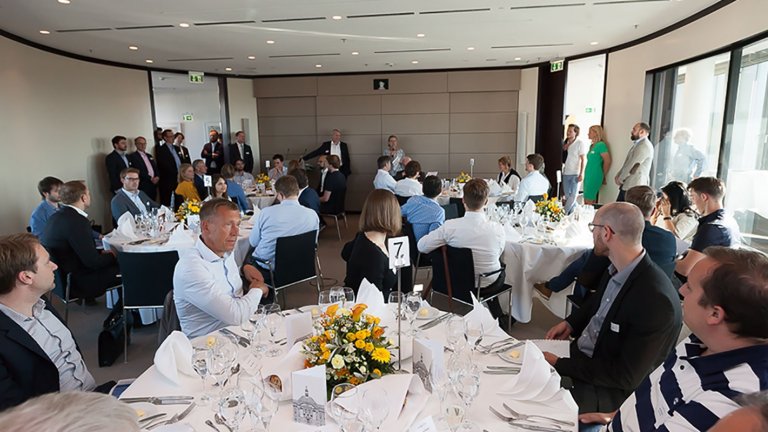 © media:net berlinbrandenburg e.V.
Investors' Dinner #17: Apply now!
The participation is free of charge! You can apply until March the 31st, 2019 within the application form! An expert-jury will select the final participants from all applications.
The Investor's Dinner addresses…
…innovative digital startups with high growth potential who are looking for early-stage venture capital (200.000 € – 3.000.000 €).
What happens at the INVESTORS' DINNER?
During a three-course dinner in an exclusive atmosphere you will present your Start-up to venture capitalists and Angels who invest in technology oriented Start-ups. After each course you will change the table and will have the chance to approach different investors at the next table and convince them to invest in your Start-up.
How do you benefit from the INVESTORS' DINNER?
The 16 Investors' Dinners from 2011 to November 2018 successfully paved the way for Startups to receive investments. BMP, BDMI, b-to-v, der Frühphasenfonds Brandenburg, HTGF, Software & Support / WestTech Ventures, Unternehmertum Venture Capital Partners and other venture capitalists invested in over 20 participating startups. Moreover, many valuable contacts have been made. Additionally, you will benefit from the networking to build long-term investor relationships and the experience of the preparation and pitching meeting with profound feedback of our experts.
Who is behind the INVESTORS' DINNER?
This matching dinner is organized by media:net berlinbrandenburg and supported by our partners Deutsche Bank, EY, förderbar, Investitionsbank Berlin, IBB Beteiligungsgesellschaft, Investitionsbank des Landes Brandenburg (ILB) and newthinking communications.
Which VCs will attend at the Investors' Dinner?
VCs at our last events: btov Partners, Capnamic Ventures, Deutera, Gruner + Jahr, High-Tech Gründerfonds, IBB Bet., ILB, innogy, Motu Ventures, Target Partners, Tengelmann, Unternehmertum Venture Capital Partners, Ventech Capital, WestTech Ventures, Wille Finance AG and XAnge!